Visitors,
Another year has come around which makes us that little bit older! Join us in a weeks worth of Birthday Event Madness starting today, 21st April, including:
Arua
: +50% Drop/Zulie rates, +100% Experience rates
and
our annual Birthday Event!
Classic
: +100% party experience!
To find out more information about the annual Birthday Event, click the event icon below your character information: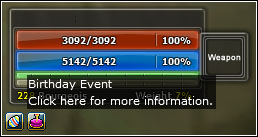 Our annual Birthday Event isn't available on Classic. Instead, Classic will have it's own annual birthday event on the week of it's launch date.
Have a great week!